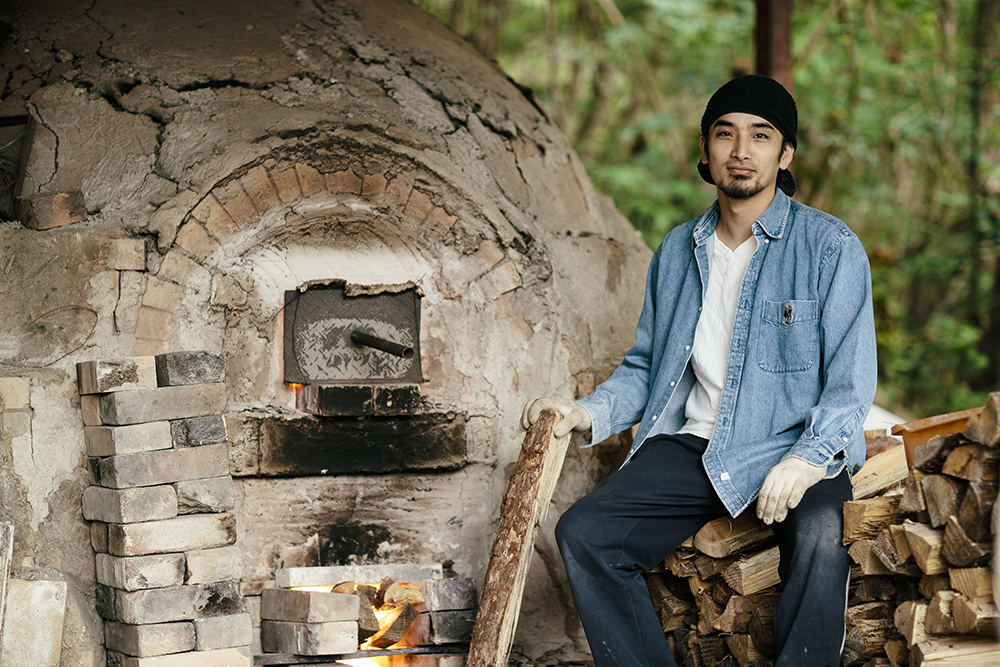 TKASHI BABA
To shape with a sculptural form―――I sense it is to create an "objet" you can actually use.
Learning by trial and error, I finally established my own kiln firing method.
I want to create innovative Bizen ware with original shapes and colors.
I want to leave a work that nobody can create but me.
It's a challenge of my life.
PROFILE
history
1983
Born as the eldest son of Bizen ware artist Shosuke Baba
2006
Graduated from Tokyo University of the Arts
2012
Monument production in front of JR Bizen Katakami Station
Solo exhibition at Roppongi Hills Ku Ambience
Solo exhibition at Yonago Tenmaya Art Gallery (3 times thereafter)
2013
Kurashiki Tenmaya Exhibition at Art Gallery (Two times thereafter)
Solo exhibition at the 9th floor art stage of Hankyu Umeda Main Store (and once)
Private exhibition at Hatchobori Tenmaya Art Gallery
Private exhibition at the National Designated Important Cultural Property Ohashi House
2014
Solo exhibition at Okayama Tenmaya Art Gallery
2015
Solo exhibition at Fukuyama Tenmaya Art Gallery
UK London Yamato-Japan Foundation Japan House Gallery "The Power of Bizen"
UK Devon Kig berare studios & Gallery Workshop and Exhibition
2016
Solo exhibition at Isetan, Shinjuku
Beijing, China Invited exhibition and lecture at "Takumi Shinsho".
Solo exhibition at Itotsu Matsuyama Takashimaya Art Gallery
2017
Solo exhibition at Hankyu Umeda Main Store Art Gallery
Solo exhibition at Miyazaki Yamagataya Art Gallery
Solo exhibition at Kagoshima Yamagataya Art Gallery
Tenmaya Hatchobori store, Alpark, Fukuyama store, "Hagi and Bizen" traveling exhibition
Group exhibition at Gallery life seeding in Taiwan
Solo exhibition at Kagoshima Yamagataya Art Gallery
2018
Solo exhibition at Oita Tokiwa Art Gallery
Two-person exhibition at Nihonbashi Mitsukoshi Main Store Art Square
Two-person exhibition at Shimonoseki Daimaru
Invited exhibition and lecture at "Soil fire" in Beijing, China
Participated in the "Contemporary Ceramics Exhibition" by Matsuyama Iyotetsu Takashimaya
Dispatched to Hoi An, Vietnam as part of an international exchange program
Two-person exhibition at Yonago Tenmaya
Exhibited at Shimonoseki Daimaru "Contemporary Ceramics Exhibition"
Solo exhibition at Kyoto Takashimaya Art Crafts Salon
Exhibited at Himeji Sanyo Department Store "National National Treasure Contemporary Popular Artists Exhibition"
Lecture at Beijing Qinghua University
2019
Solo exhibition at Nagasaki Hamaya Art Gallery
Exhibited at Yamaguchi Izutsuya "Contemporary Ceramics Exhibition"
Solo exhibition at Okayama Tenmaya Art Gallery
2019
Exhibited at UAE Abu Dhabi ADIHEX
Exhibited at Tenmaya Okyama's "Resonance Phenomena 1"
Exhibited at Nihombashi Mitsukoshi's Art Square
2020
Exhibited at "ONE ART TAIPEI" in Taiwan
Exhibited at Art Nagoya 2020 in Nagoya
Exhibited at "ART FAIR PHILIPPINES 
2020" in the Philippines
Exhibited at Fukuoka Mitsukoshi
Exhibited at Tenmaya Okyama's
"Resonance Phenomena 2"
Award
Mr. I Prize final selection

Bizen Toshinkai Exhibition Okayama Prefectural Governor Award (2 times)
Bizen Mayor Award (2 times)

Okayama Board of Education President's Award Prefectural Council Chairman Prize

Chanoyu Modeling Exhibition
selected

Japan Traditional Crafts Exhibition China Branch Exhibition (selected2 Times)

Okayama Art Exhibition (selected3 times) Okayama Mayor Award

Membership of professional institutions
Bizen ceramic friend society
Bizen Toshinkai